Purple Star School for Military Families
_____________________________________________________________________________________
Newton Elementary School was designated a Purple Star School on April 5, 2023 . The Alabama Purple Star Schools Program and Committee, established by legislature with the passage of Act 2021-7, recognizes the efforts of the K-12 schools in the state that are committed and supportive of military students, and their families, as they transition to their new homes and schools. The Purple Star School program was designed to help mitigate the challenges of high mobility by setting standards for and publicly designating military-friendly schools. The Purple Star Award recognizes schools that show a major commitment to students and families connected to our nation's military. Schools that earn the award will receive a special Purple Star recognition to display on site.
Military Family Resources
Alabama's Heroes Welcome Initiative
- The Heroes Welcome Initiative works together with representatives located in communities across Alabama and is committed to providing military families with information and resources available.
Alabama Department of Veterans Affairs
- Provides comprehensive care and quality service to Alabama's veterans, and their families, with regard to health care, education, disability benefits, long-term care, and burial honors.
Military Interstate Children's Compact Commission
- Alabama is one of 50 states involved in the Interstate Compact for Educational Opportunities for Military Children, which is working to ensure that military children are properly enrolled in schools, have eligibility for school activities and have assistance in meeting graduation requirements.
The Alabama Military Stability Commission and
Alabama Military Stability Foundation
- The Military Stability Commission,
chaired by Lt. Governor Will Ainsworth
and Military Stability Foundation work in conjunction to proactively ensure the stability of Alabama-assigned DOD resources by study and evaluation of all currently assigned military forces or civilian contractors and the move of these resources within, to, and from the State of Alabama. The operational arm of the Military Stability Commission, the Military Stability Foundation is a private, non-profit foundation which was incorporated in September 2011. The Foundation works directly with the Commission, Alabama-assigned DOD installations, and the communities that surround and support them to develop and implement measures to retain and strengthen Alabama's military assets and infrastructure and to assist in preparations for any impending Base Realignment and Closure (BRAC) or similar process.
Touching Base
- Touching Base is a quarterly U.S. Department of Education newsletter for the military community.
Ambassador Program: PEER HELPERS
The Peer Helpers program works through a group of students and educators to build a positive school climate and culture. Students selected as Peer Helpers are trained in communication and referral skills and must adhere to the program's Code of Ethics. Peer Helpers support other students as tutors, mentors, and confidants. They perform various roles including individual student support (including military students), RtI Tier II, facilitation of small groups, or leading campus wide campaigns to reduce at-risk behavior and increase attendance. Peer Helpers can offer military students and their families encouragement and assistance while transitioning into the school community.
We have Peer Helpers in 4th - 6th grades. They can easily be identified with their Peer Helpers badges.
( information from ThriveWay, LLC 2022)
School Contact Person:
Mrs. Desiree Williams, Counselor
Email: dwilliams@dalecountyboe.org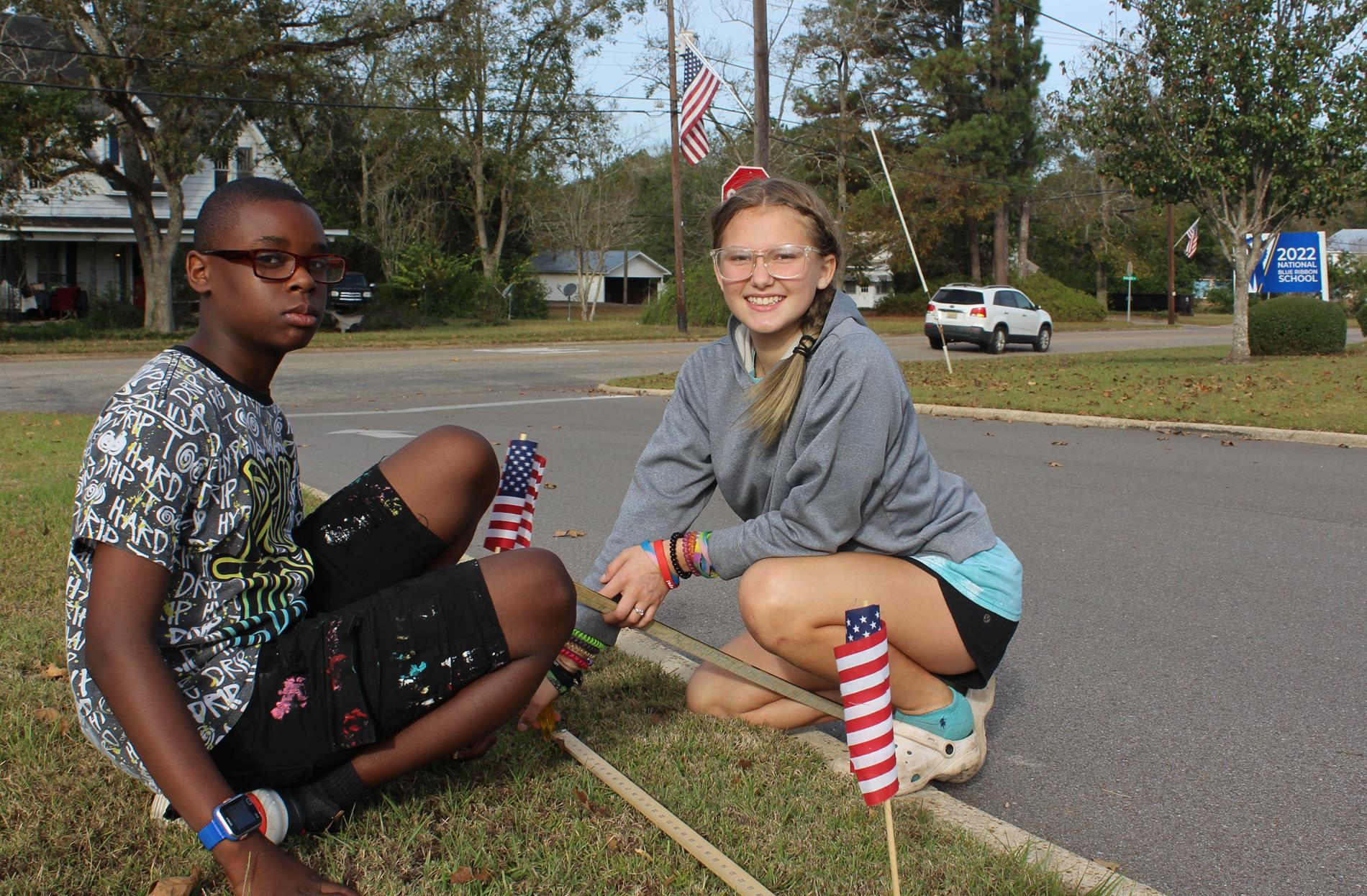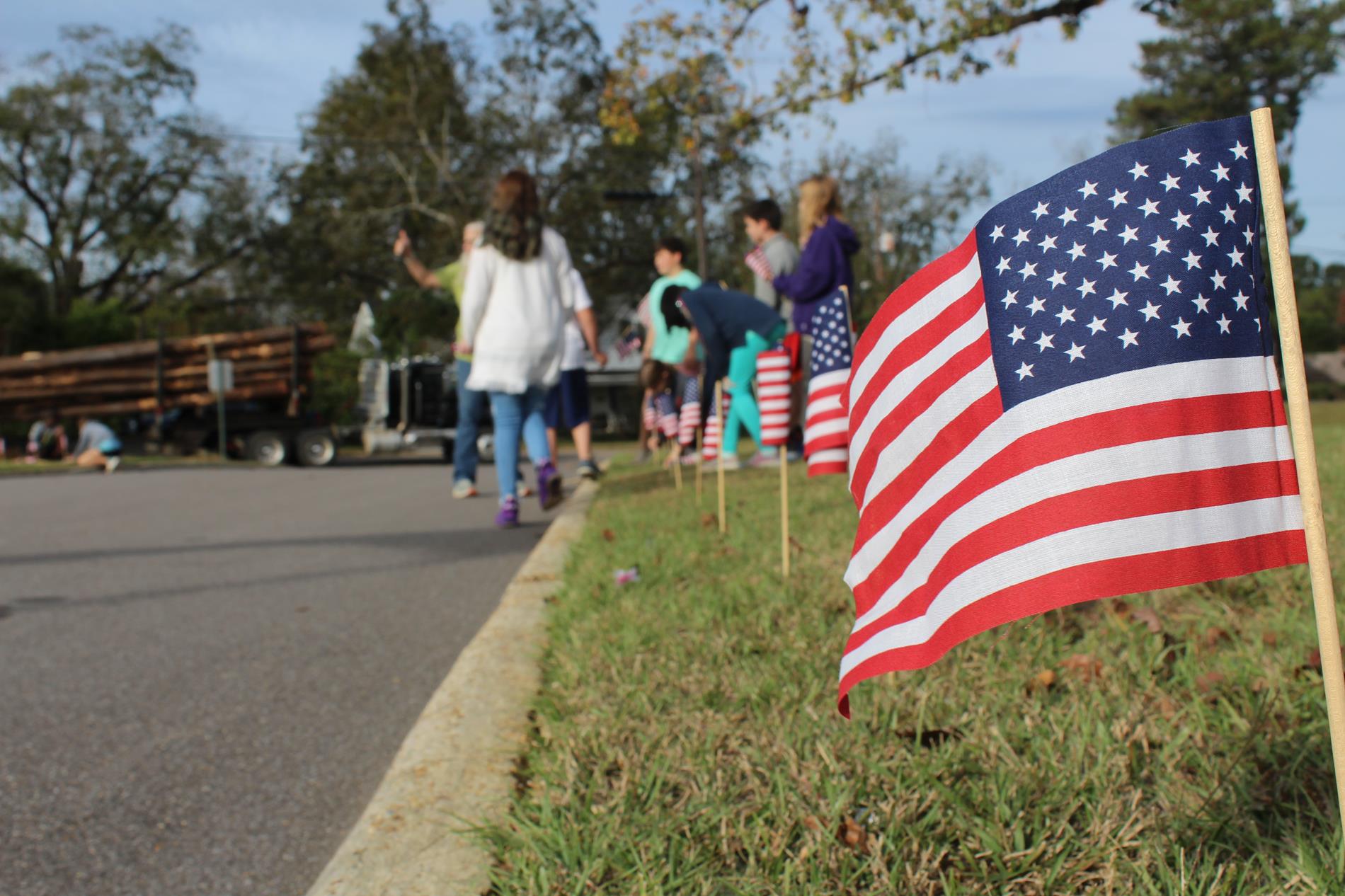 Some of our Peer Helpers spent time placing flags along the bus loop in honor of Veterans Day.